BIO
Pasteur Bodo Pambu was born in 1953 in Mandu, Democratic Republic of Congo. He lived and worked in Kinshasa.
Bodo Pambu was one of the founders and key proponents along with Moke and Chéri Samba of what has come to be known as the Zaïre school of popular painting. Their works state vigorously and candidly their belief in their capacity to create art that could change the course of history.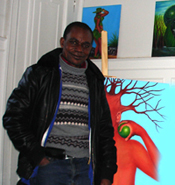 Camille-Pierre Bodo chose to paint anything and describe everything that he had seen and experienced. His works then successively became chronicles, pamphlets, manifestos, demands or advice. His objectives were not selfish: he was a popular painter. One of Bodo's main themes was the "Ndoki Zoba" (sorcery) and the aim of these paintings was to advise on abandoning the practice of sorcery. In 1980, he converted to Christianity, and joined the Pentecostal church. He became one of the most impassioned pastors of "world evangelism," and was convinced that it would change his life.
In the early 1990s, Bodo Pambu improved his style considerably so as to be able "to express my major personal ideas and have more impact. My goals being: the improvement of life, and of visible things, and to share my dreams of a better world."
Thereafter he dealt with symbolic or fantasy subject matter, with a strange imagination that was fed by his dreams. "I express everything that happens to me, so that I am no longer focused on specifically African topics and can address myself to the entire world." The titles of his works: River of Delights, Ignorance, or Love, the Source of Life, perfectly echo his beliefs and his aesthetic aims.
Pierre Bodo passed away on the 5th of March, 2015.
source: Caacart