BIO
Joseph Ashong aka Paa Joe is a Ghanaian fantasy coffin artist born 1947 in the Akwapim region, Greater Accra Region in Ghana. He belongs to the Ga-Adangbe people.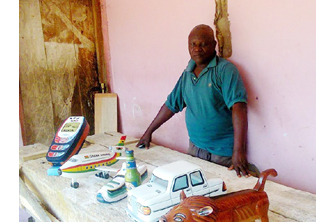 At the age of 15 Paa Joe started a ten-year apprenticeship as a coffin artist in the workshop of Kane Kwei (1924–1992) in Teshie. In 1976 Paa Joe started his own business in Nungua. He trained many young artists like Daniel Mensah (Hello), Eric Kpakpo or Kudjoe Affutu who have also become very successful fantasy coffin artists.
In 2007 Paa Joe moved his workshop from Nungua to Pobiman (Greater Accra) where he still works with his two sons Jacob and Isaac.
Paa Joe is considered one of the most important Ghanaian coffin artists of his generation. He has taken part in numerous major art exhibitions in Europe, Japan and the USA. His fantasy coffins are featured in the collections of many collectors and art museums worldwide, notably the British Museum in London.
source: wikipedia

NEW Watch Paa Joe featured on BBC on the occasion of his recent visit to the UK.