BIO
Fanizani Akuda is one of the masters of Zimbabwe's first generation of stone sculptors. He was born on 11th November 1932 in Zambia but came to Zimbabwe in 1949 to work as a farm foreman.
In 1966, Fanizani moved with a friend to a farm in Tengenenge. He met Tom Blomfield and joined the now World famousTengenenge Art community.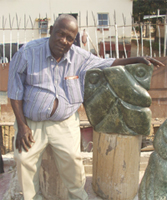 Smiling figures, happy families, interaction between humans and animals often in pairs or groups and not forgetting "slit eyes", one of his distinguishing features, became his "trademark". He has earned a tremendous amount of exposure world wide and has exhibited in all of the most important museums in the world from the MOMA to the Centre George Pompidou or the Rodin Museum. Fanizani Akuda has travelled many countries in exhibits and workshops, including Germany, Denmark, USA, Holland, Sweden, Cuba or Australia to mention just a few.
source "Sculptors from Zimbabwe" (2001) - Ben Joosten