BIO
Born in 1964, Colleen Madamombe holds a somewhat inspirational role within the stone sculpture movement as she is only of only a handful of women sculptors in Zimbabwe and often considered the best.
Her work add new dimension to the complexity of Zimbabwean stone sculpture through her commitment to a theme. Madamombe uses her technical and artistic skills to highlight the special qualities of Shona woman, as well as to communicate the inequities that affect their lives and status.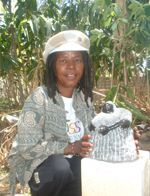 Colleen Madamombe's subject matter is deeply rooted in the traditional role of Shona women. Her powerful images, their energy and movement, the contrast of the rough and polished parts of the stone, make Madamombe's stone sculpture some of Zimbabwe's most dynamic. She represents the voice of a new generation of Zimbabwean women.
Colleen declares, ' I am inspired by the activity of women and I work hard to show this in my sculpture. In recent pieces I have used natural areas of the stone with rough workings to emphasise this movement - the texture follows the rythms of the body. This contrasts with the more finished areas of the face and hands.'
source: "Life in Stone, Zimbabwean Sculpture", Olivier Sultan, 1994