BIO
Born in 1946 in Guruve, Zimbabwe, Bernard Matemera is a founder member of Tengenenge and has been for many years the symbolic leader of the community. His uncompromising and powerful images are now found in public and private collections throughout the world.
Bernard Matemera is acknowledged to be one of Zimbabwe's master sculptors. He has spent his entire professional career at Tengenenge where he occupies the position of figurehead amongst the artists in the community.
International recognition and indeed a genuine appreciation in his native country has been hard won. As a child Matemera showed great talent at wood carving and enjoyed traditional rural crafts such as modelling clay, but as with many other of today's master sculptors, it was Tom Blomefield and Tengenenge that provided him with the most significant change in his life - an introduction to stone carving. Bernard Matemera quickly established an astonishingly individual and powerful style to which he has remained true over many years of exploration, hardship and success. His work has become so uncompromising, indeed demanding (especially of international audiences), that it often takes time before his strong African imagery and subject matter can be assimilated and understood. Animals, spirits, people and the creatures which inhabit his dreams have faithfully provided him with subject matter throughout his career. They demand attention, cannot be ignored and remain with the viewer long after they have disappeared from sight. His reluctance to discuss his work only serves to help the process of sending the sculptures out on their own in the world, fully formed and capable of communicating in universal language of powerful, emotional, sexual, physical and culturally challenging imagery.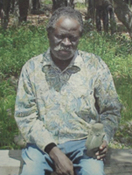 F. Mor, the author of "Shona Sculpture", describes Matemera's work in the following terms:
"His African neo-expressionism, often represented in enormous and deliberately grotesque dimensions, oscillates between the humorous and the tragic." Many of his subjects bear the mysterious physical trademark of three toes and three fingers - a recurring element in the artist's dreams, but an actual physiological fact amongst a community from which he began as an artist (being one of only a few who remained throughout the war of Independence), but also consistently faithful to his beliefs and sense of pride in his country with its inherited cultural and spiritual ancestry."
Respected critic and expert of Zimbabwean Stone Sculpture, Celia Winter-Irving, writes about Matemera's work with a deep understanding of the community in which it is created:
"There is in these sculptures an unspent power and a reserve of energy. They speak both of the force within them and the force behind them. They are the product of great strength of mind as well as strength of the hand; of a strength of will as well as a strength of physique. They are indeed a celebration of the monumental. "
In the last few years Bernard Matemera has received tremendous critical acclaim and international attention including the prestigious award at the New Delhi Triennial in 1986, and the first prize in the Annual Heritage Exhibition at the National Gallery of Zimbabwe.
Bernard Matemera's sculptures are the subject of his dreams: animals, spirits, people and creatures, and the ever present metamorphosis between them.
Definite works include "Blind Man", "Great Spirit Woman", "The Man who ate his Totem" and "Chapungu".
Highly acclaimed, Bernard Matemera has been described as one the best stone sculptors of our time.
source: "Chapungu - Custom and Legend" (2001), R. Guthrie and "Sculptors from Zimbabwe", B. Joosten
[read more about the History of Shona Sculpture here]